No matter where a caregiver lives, they share many of the same struggles – daily stress, exhaustion and setting their own needs aside to care for a loved one who is ill, a panel of experts recently told CSL Behring's Policy, Advocacy and Government Affairs (PAGA) team. And caregivers are essential all over the world, ensuring that vulnerable people don't fall through the cracks.
"Our whole health system depends on carers," said Anil Patil, Executive Director of Carers Worldwide, which represents caregivers in South Asia. "Carers are the unpaid army keeping everything going."
Patil was among three experts who participated in the enrichment series discussion designed to bring fresh expertise and insights to CSL Behring's PAGA team. The conversation also included Eurocarers CEO Stecy Yghemonos and Lisa Winstel, Chief Operating Officer of the Caregiver Action Network in the United States.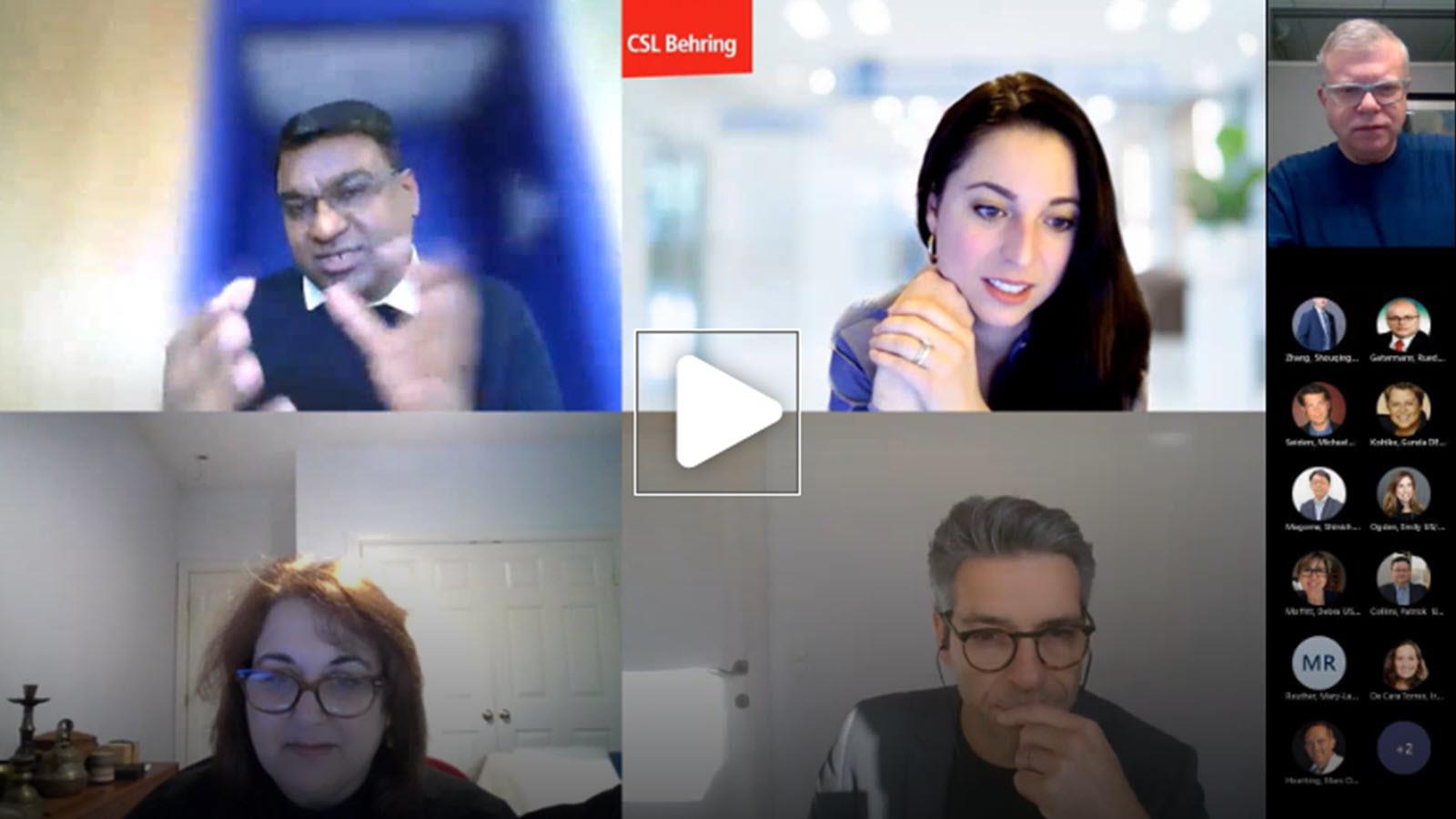 In the U.S., Winstel said caregivers were still feeling the effects of the COVID-19 pandemic, when many tried to protect the health of their loved ones by keeping them out of facilities and caring for them at home. COVID-19 outbreaks were common and sometimes devastating at nursing home and rehab centers, particularly early in the crises before vaccines were available.
But at-home care put many caregivers in the difficult bind of caring for a needy parent while also looking after – and even helping educate – young children when classes moved online. Many balanced all that along with working.
In Europe, the pandemic helped raise the profile of informal carers and how important they are, Yghemonos of Eurocarers said. He said it was a turning point for Europe, where policymakers are now discussing the introduction of "pension credits" (similar to Social Security benefits in the United States) for carers to compensate them for the caregiving work they do.
"People shouldn't be forced into an informal care role," Yghemonos said.
In regions like South Asia, awareness of caregivers is a pressing concern, Patil said.
"Caregivers are still invisible. They're hidden behind the curtain" in India, Nepal and Bangladesh, he said.
Carers Worldwide would like to see all carers compensated, but is also pushing for softer goals, such as improved awareness. He said the first Carers Day in India was a success, prompting thousands to get involved.
"For the first time, you have all these people participating," Patil said.
Winstel's organization is a nonprofit that gets no government funding from the U.S., she said. They'd like to see more recognition of what caregivers actually do, like managing prescription medication for their loved ones and learning complex tasks so they can administer therapies at home.
The Caregiver Action Network supports the recommendations proposed by the RAISE Commission, but says the nation has a long way to go in recognizing caregiver needs and the critical role they play.
"It's a fabulous list. None of it is funded," Winstel said.
In the meantime, the Caregiver Action Network offers free support, a number people can call with questions. The organization listens closely to what callers' needs are and then translates that into new support and services, she said.
"Until there's a cure, there's care," Winstel said. "What can we do to improve quality of life for both the patient and the caregiver?"