BERN, Switzerland - CSL Behring's leading-edge manufacturing site in Bern, Switzerland, has teamed up with the local wastewater company to both reduce its burden on local utilities and turn discarded water into alternative fuel.
As it works to manufacture therapies for people with rare and serious diseases, CSL Behring uses as much water as 100,000 city inhabitants, according Bern's ministry of the environment. Previously, that water had to be processed through ARA Bern's wastewater system.
Get the latest stories from Vita by signing up for our newsletter.
But work recently finished on an innovative, environmentally-friendly approach that first collects the wastewater onsite and then sends it through a dedicated pipeline to an ARA bioreactor on the River Aare. There, it is now being converted into an alternative fuel called biogas. That fuel, similar to natural gas, is providing 20 percent of CSL Behring's gas needs at the site in Bern.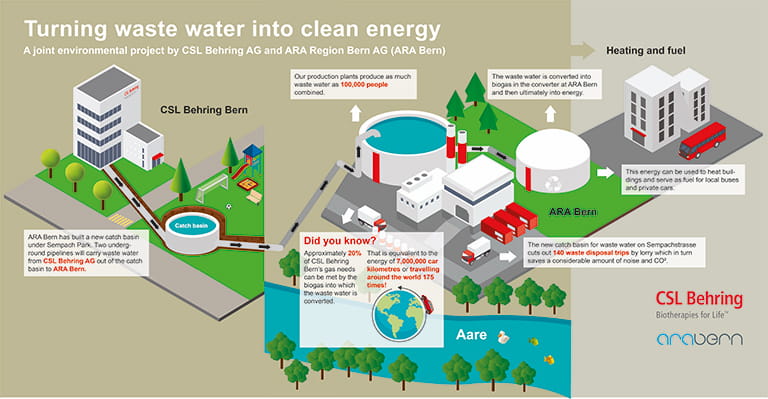 "The earth is our home and CSL Behring is committed to doing everything in our power to act responsibly in how our operations impact the environment," said Rolf Ingold, CSL Behring's Director of Quality Management Engineering Services.
The new collection facility was installed about 20 feet (6 meters) beneath Sempach Park in front of CSL Behring's main entrance. During the construction work, the lawn and children's athletic field were partially closed to residents. At the close of 2018, CSL Behring, ARA Bern and the community celebrated the project's completion and the park's reopening with a barbecue and a children's soccer tournament. Community members also could get an inside look at the civil engineering work behind the project.