Our Company
Driven by Our Promise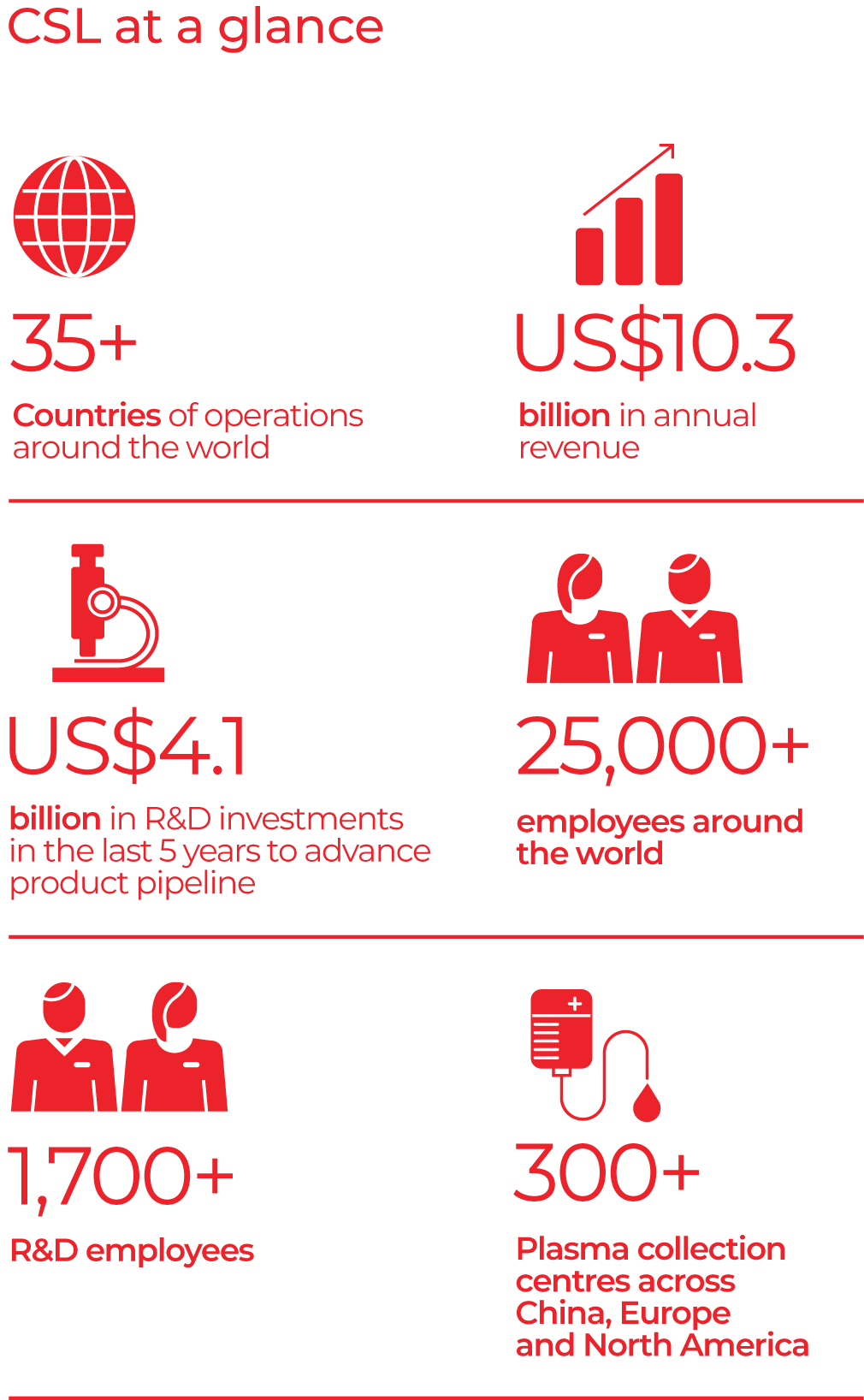 Delivering on promises is what we do at CSL.
Over a century ago in Melbourne, Victoria, Australia, we made a promise to save lives and protect the health of people who were stricken with a range of serious and chronic medical conditions. Today, as a leading global biotech company, that same promise has never been stronger. We develop and deliver innovative biotherapies and influenza vaccines that save lives, and help people with life-threatening medical conditions live full lives. We are driven by our deep passion to serve hundreds of thousands of patients and other stakeholders around the world.
Areas of Expertise
We focus on rare and serious diseases and influenza vaccines. Today, we compete on the global stage as one of the largest and fastest-growing protein-based biotechnology businesses and a leading provider of in-licensed vaccines.
Rare & Serious Diseases
Our innovations are used around the world to treat immunodeficiencies, bleeding disorders, hereditary angioedema, Alpha 1 antitrypsin deficiency and neurological disorders.
Vaccines
Through our influenza vaccines business, Seqirus, we are a transcontinental partner in pandemic preparedness and a major contributor to the prevention and control of influenza globally.
Our Values
CSL's strong commitment to living our Values has guided us for many decades. Our Values have been fundamental to our success — helping us to save lives, protect the health of people, and earn our reputation as a trusted and reliable global leader. They're at the core of how our employees interact with each other, make decisions and solve problems.
They are:
Patient Focus
We deliver on our promise to patients.
Innovation
We turn innovative thinking into solutions.
Integrity
We walk the talk.
Collaboration
We are stronger together.
Superior Performance
We take pride in our results.