Some people aren't afraid of taking on big questions. For instance: Develop a quantum algorithm to optimize spherical particle packing in containers of varying geometries.
That was the challenge CSL Senior Scientist Ian Njoroge faced down at Chicago's recent Quantum Exchange Big Q Hackathon. He led a team that included five physicists, mathematicians and computer scientists to formulate the problem and create a novel and scalable solution. They competed and won first place in the technical phase against other bright minds representing J&J, Boeing, Motorola, Mayo Clinic, Capgemini, General Atomics and United Airlines.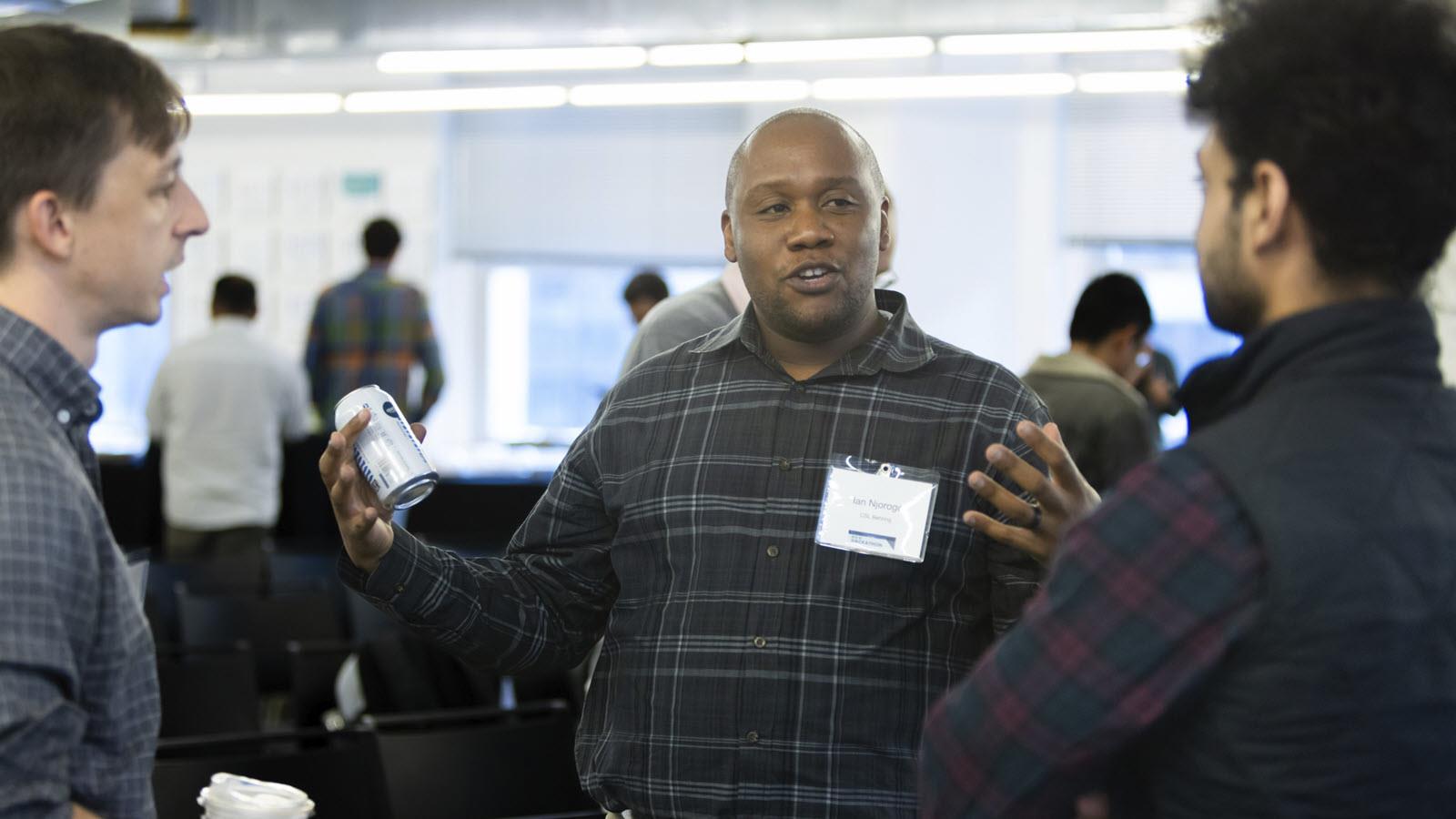 Here's how Njoroge describes the challenge and the team's solution in plain language: Imagine you have a big container of different-sized marbles, and you would like to fit them all in a box without wasting any space. You could do this physically through trial and error, but you would have two problems. First it would be difficult to make sure you found the best solution and second it would take you a long time to repeat the task.
However, with a computer you can solve those two issues. A computer allows us to run the task many times without human intervention and you could use it to figure out if you found the best solution. Now think about trying to create a digital picture that shows exactly where each marble is and how they fit together. That is a tough job that takes a lot of computer power.
We want to figure out how to create the digital picture more easily because it helps make 3-D printed objects, medicines and other things more inexpensively and easily. In our solution, we used a quantum computer (which is a special computer that can solve hard problems that normal computers would take a long time to solve) to create a digital picture of the marbles better and faster. In fact, we were able to do it 30% better than today's computers.
What is quantum computing? A recent article in the New York Times says the concept "draws upon subatomic particles to carry out multiple calculations at the same time" and could pose a big threat to our current encryption systems. It can run an advanced algorithm that has existed for decades awaiting a computer powerful enough to run it. Read: The Race to Save Our Secrets from the Computers of the Future

Because quantum computing may be our next transformational technology, Maen Qadan, CSL's Executive Director of Plasma Product Development, wanted CSL to take part in the hackathon. Njoroge previously worked at Intel, making him particularly well suited to compete.

"We chose to participate to understand the value of this cutting-edge technology and how it can impact us at CSL. While AI is the hot topic now, quantum will start to come in 2025 and into the next decade. It is not just the nature of the quantum computer, but the complex problems that we need to apply it to," Qadan said. "The impact of this application is tremendous."

CSL is a global biotech company that includes business units CSL Behring, which researches and manufactures treatments for rare and serious diseases; CSL Seqirus, a major vaccine producer; and CSL Vifor, a leader in iron deficiency and nephrology. The Chicago Quantum Exchange Big Q Hackathon brought together members of the quantum computing value chain, while identifying problems that could be solved with the power that quantum computing promises over the next decade and beyond.

Njoroge thanked Noel Perez, CSL's Senior Director, Engineering Project Delivery, for his support with this project. Perez, who already has a Ph.D. in electrical engineering and electronics is currently enrolled for a second doctorate at the University of Chicago in quantum computing.

Based at the University of Chicago and anchored by two national laboratories, the Chicago Quantum Exchange says its mission is to connect leading academic talent, top scientific facilities, and prominent members and partners to advance the science and engineering of quantum information, train the quantum workforce of tomorrow and drive the local and national quantum economy.