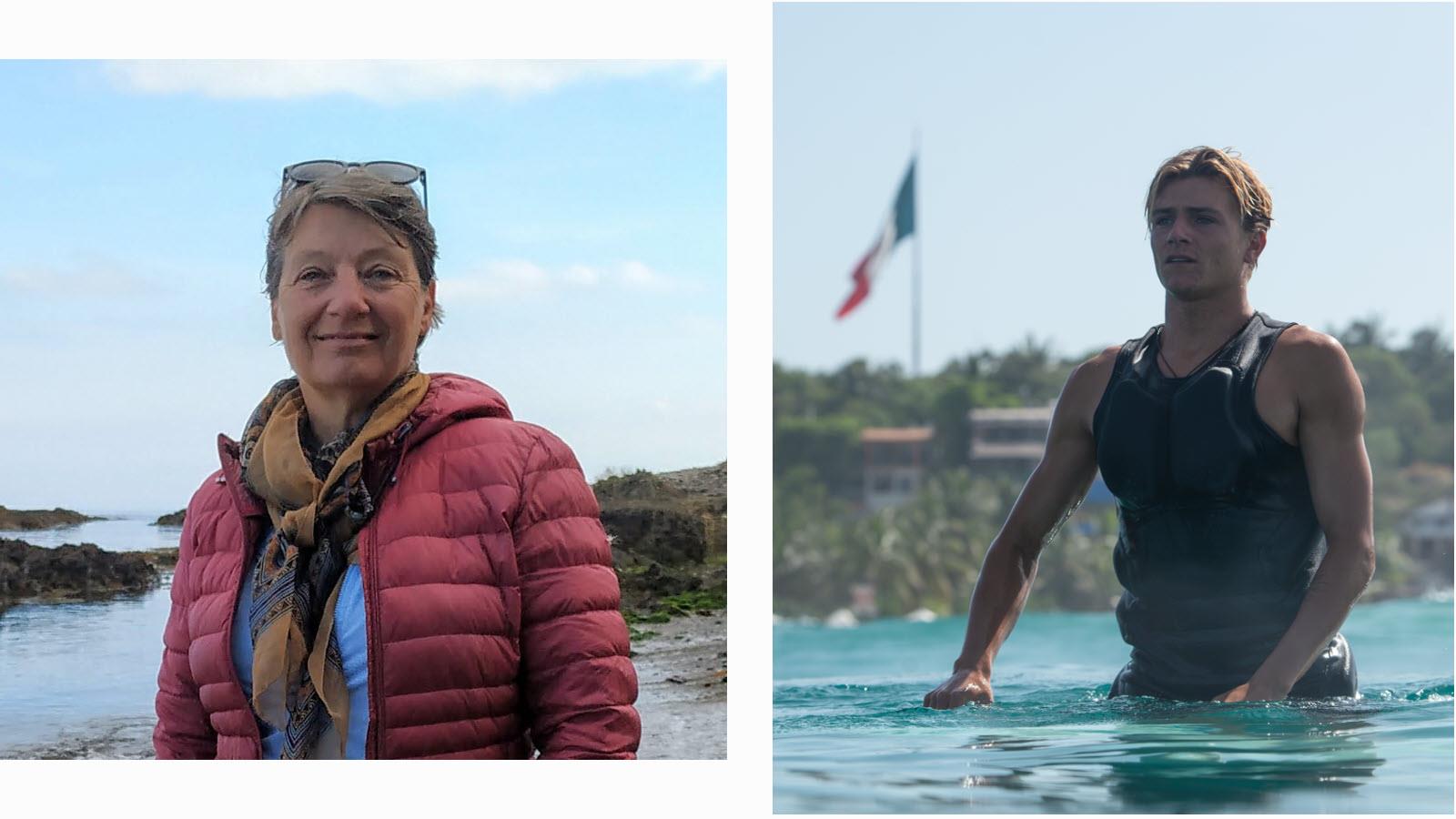 Some Moms joke about wrapping their children in bubble wrap but then the day comes when they can only watch as their son or daughter steps into the batter's box, hustles out onto a soccer field or, say, paddles out into the big, angry ocean on a surfboard.
Surfer Arran Strong, now 23, has been doing just that from a young age and his mother, Shane Fitch admits it has been nerve-wracking at times – especially because Strong has health conditions, including alpha-1 antitrypsin deficiency. Alpha 1, a rare disease that can impact the lungs and liver, happens because the body lacks alpha 1, a protective protein. Like many parents of children with rare diseases, Fitch devoted herself to the cause and founded Lovexair, a nonprofit group based in Spain that supports people who have respiratory conditions.
After navigating some health problems over the last few years, Strong is now an Olympic hopeful. He's training to surf for Great Britain, where he was born, in the Paris 2024 Olympics. There being no ocean in Paris, surfers will compete for medals in Tahiti. Strong, an energetic advocate for people with alpha 1 and other respiratory diseases, pours himself into training, including a 2019 Ironman competition that included running, biking and swimming. CSL Behring, a global biotech leader that makes medicines for rare and serious diseases, sponsors his advocacy work.
All of Strong's physical preparation, plus his focus on nutrition and a positive mental outlook, puts him in the strongest possible position against the dangers of surfing, he said. But Strong is open-eyed about the risks and, sadly, experienced the loss of a fellow surfer who drowned last year during a competition in Mexico.
"To hear this created a very intense feeling going back out to that wave," he said. "That incident taught me never to underestimate the ocean."
Difficult as it is for the less adventurous to understand, fear has both a negative and a positive charge for surfers like Strong. It's both part of the job and part of the motivation, enjoyment and satisfaction.
"Using the fear factor to thrive as an athlete, and being able to switch and gain enjoyment from this particular feeling that is usually uncomfortable, is very powerful. You are constantly fighting your fears with the ocean in order to then gain satisfaction by riding waves," he said.
In honor of Mother's Day, we asked Fitch how she learned to balance fear for her son's safety with the realization that he loved surfing and was going to pursue it relentlessly.
You were always supportive of Arran learning to surf. How did it feel to watch him out on the waves when he was just starting out?
At the beginning, I could see that this really helped him to channel his energy and gain focus much more significantly than other sports. I could see that he developed a relationship with the ocean and the community of people who were also passionate about surfing, training and guiding young people.
Did you put any requirements on the situation, such as asking him not to surf alone or having another adult around when he was young? Did you often say "be careful" or anything else on a regular basis?
I took the steps that all mothers do and I looked for older surfers with experience, responsible, good teachers and a nice way with kids. That helps enormously because you need people you can trust around your children, so that they are looked after in the best way possible from early on.

What was it like to watch him get increasingly more skilled and take on bigger waves? Do you watch?
At times on trips where we met up with new people and new places, which seemed so adverse and raw, it was nerve-wracking. Again, I asked for reassurance from the people who were training – older surfers – so there was a brotherhood always and that's important.
Also, I remember watching a Kelly Slater clip of him saying that parents should not obsess about their kids surfing capabilities and so on, let them be and get their own life.
I totally agree. We as parents should understand that personal development of our children is so important to their resilience and independence for the future. We can be around, but not all the time. It's good for us to pursue our own development even though we sometimes feel outside of what is going on in their lives.

In addition to alpha 1, Arran had an epileptic attack in 2018, which temporarily halted his surfing career. What was that like for you as his mother? Did you help him manage the situation and then a return to surfing?
This was a shock because I knew how hard it was for him to accept another major health issue and let go of surfing. There was a lot of work to do again on finding the best medical specialists, information and a sensible approach to understanding how to manage epilepsy, medication that would be the least harmful to Arran with the liver condition of alpha 1. So it was like starting again with a young adult.
Thankfully, we seem to manage to take on life's challenges with a determination to overcome the difficulties faced and he has done an amazing job there. He is an inspiration to many people … and can even be reckless at times ... but we have to live with who people are and what makes them tick!
What advice do you have for other parents who want to support their children in sports, but worry about their health, especially those who have serious/rare conditions?
I think that it's important for all people to explore the sports that they are most attracted to. Of course, be mindful of your child's needs and different stages of development. Fast tracking is not the way to go. Go steadily instead. We see so many adaptive athletes these days who challenge themselves, blind skateboarders, disabled people in Iron Man races... it's amazing. Also we must truly value the power of our minds and what we can achieve when we believe. So we think often about Karen Skalvöll who sadly passed last year and we dearly loved her, such incredible talent and force as an Alpha Strong Woman.
There are so many things that we can do in life. Like Nimsdai (a record-shattering, British mountaineer), #nothingisimpossible. So as parents, nurturing this path is really essential. It is probably the most rewarding thing for a person to feel their achievements when their health issues hold them back from a concept of normality. So supporting them the best we can gives them their own opportunities, which bring happiness and fulfillment. What could be better in their lives?