CSL Podcast: World of Promise
CSL presents the World of Promise podcast series, focused on biotechnology and its promise to transform the lives of people and patients around the world living with serious and rare diseases and its promise to protect the health of people around the world.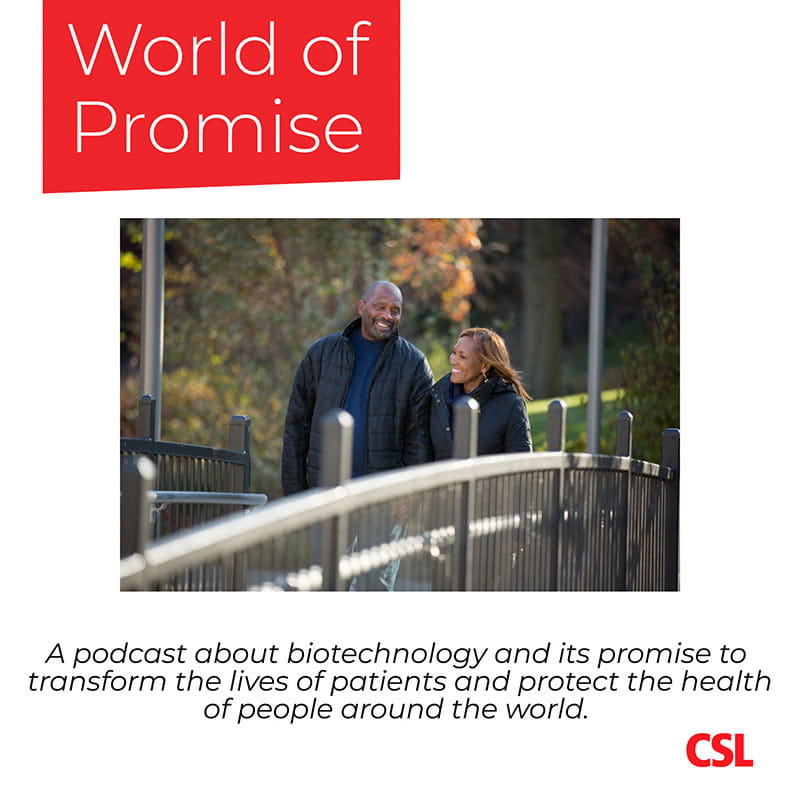 Each episode features conversations with leading medical experts, patients or other people involved in the field of biotechnology, with a goal of, "providing engaging and useful content to people with rare and serious diseases and their families, health care providers and others interested in learning more about these topics. The format of a podcast allows us to go more in-depth on these topics that are so critically important to our patients," says Anthony Farina, CSL's Chief Communications Officer, who is also the show's host.

World of Promise is available on Apple Podcasts, Spotify and other podcasting platforms.
Episodes
Date
Title
Description
Link
14 March 2023
Episode 27: Dr. Ala Stanford and the Power of Advocacy
A conversation with Dr. Stanford, founder of the Black Doctor's COVID-19 Consortium and Regional Director for the U.S. Department of Health and Human Services.

Listen
16 February 2023
Episode 26: Celebrating Rare Disease Day with Jodi Taub
In honor of Rare Disease Day, new podcast episode welcomes a special guest to discuss the importance of mental health and other topics.

Listen
20 September 2022
Episode 25: CSL's Partnership with Project Healing Waters Serves Veterans and Current Military
CSL Behring employees formed a partnership with Project Healing Waters Fly Fishing and its COO explains more about the program.
Listen
14 April 2022
Episode 24: World Hemophilia Day and Expanding Access to Therapies for People with Bleeding Disorders
Leading experts from Nigeria and Canada talk about the importance of finding new and innovative ways to expand access to therapies for people living with bleeding disorders.

Listen
25 February 2022
Episode 23: When's the Right Time to Tell that Special Someone About Your Rare Disease?
When it comes to dating and starting a new romantic relationship, people who live with rare and serious diseases face some unique questions, including "When is the right time to tell that special person about my condition and how do I do it?"
Listen
14 December 2021
Episode 22: The Future of Flu Vaccines
Experts from CSL's Seqirus vaccine business discuss what's next in terms of flu vaccine technology.

Listen
17 August 2021
Episode 21: The Importance of Pandemic Preparedness
Seqirus's Lorna Meldrum talks about the twin threats of COVID-19 and seasonal flu.

Listen
24 June 2021
Episode 20: The Safety of Vaccines
Gregg Sylvester, Chief Medical Officer and Head of Medical Affairs for leading vaccine producer Seqirus, discusses how Seqirus ensures that its vaccines are safe – the processes that are implemented and why this topic is so important.
Listen
28 May 2021
Episode 19: How Technology Is Changing Vaccines
Our VP of R&D for Seqirus, CSL's vaccine business, explains how the company is leveraging knowledge about COVID-19 vaccines to improve influenza vaccines.
Listen
12 April 2021

Episode 18: Adapting to Change
Two doctors/leaders in the hemophilia space discuss changes in hemophilia treatment and how this past year has changed everything.
Listen
30 March 2021

Episode 17: Taking Risks, Overcoming Doubts

In honor of Women's History Month, this episode features two female CSL leaders sharing their career journeys, the obstacles they've overcome and offer advice for other women working in biotechnology.

Listen


4 March 2021



Episode 16: The Case for Career Development

CSL's Chief Human Resources Officer Elizabeth Walker explains why the company wants employees to invest in themselves.

Listen

29 January 2021



Episode 15: Protecting Public Health During the Pandemic
Hear what Dave Ross, a leader from our flu vaccine business Seqirus, has to say about the twin threats of influenza and COVID-19.
Listen

7 January 2021

Episode 14: Digital Transformation and Rare Disease Patients
For more than 30 years, Mark Hill has worked in digital technology for large, global biotech and pharmaceutical companies. Now, as CSL's Chief Digital Information Officer, Mark chats about his experiences and where he sees digital transformation taking biotechnology in the future.
Listen


7 October 2020



Episode 13: It's International Plasma Awareness Week
Willy Pardinas, General Manager and Vice President of CSL Plasma, world leader in plasma collection, discusses the importance of plasma donation to people around the world living with rare and serious diseases.
Listen

21 July 2020

Episode 12: Suffering in Silence: Rare Disease Awareness & Management in Asia-Pacific
A new report by the Economist Intelligence Unit takes a look at the challenges facing patients living with rare diseases across five Asia-Pacific economies. Listen to hear the editor's thoughts on the report.
Listen

15 June 2020

Episode 11: Super Bowl MVP Discusses His Family's Battle Against Sickle Cell Disease
The Steelers legend Santonio Holmes - and Dad to a son with the disease - talks about his foundation that helps families cope.
Listen

3 June 2020

Episode 10: Why We Do Clinical Trials
Hear from Deirdre BeVard, CSL Behring's Senior Vice President of R&D Strategic Operations, about how clinical trials benefit patients, why they are so critical to the advancement of biotechnology and how they are being impacted by COVID-19.
Listen

14 April 2020

Episode 9: Celebrating 30+ Years of World Hemophilia Day
As the COVID-19 pandemic continues around the world, rare disease patient groups continue to provide support and outreach to their communities, and community is more important than ever for those with bleeding disorders.
Listen

1 April 2020

Episode 8: Lessons from COVID-19
Tony Strickland, Head of Enterprise Security at CSL Behring, talks about being on the front lines of company security during these unusual times.
Listen
20 February 2020

Episode 7: Chasing the Cure

Dr. David Fajgenbaum was diagnosed with a rare disease in medical school

. Rather than give up hope, he began researching it and remarkably, his research led to remission. He went on to write a book about his journey and how he is now living his life "in overtime."

Listen
29 January 2020

Episode 6: The "Palpable Passion" of Patient Focus
Chief Medical Officer Charmaine Gittleson explains how CSL works closely with patients to listen their needs and brings together the palpable passion of employees from across the organization to better understand how each employee can take a part in addressing those needs.
Listen

24 September 2019
Episode 5: CSL's COO Shares the 3 "C"s of Management

Early in his career, CSL's Chief Operating Officer Paul McKenzie discovered the three "C"s, a concept that he says has been critical to his success as a leader. Listen to learn how he creates, channels, and conserves energy.

Listen

20 August 2019

Episode 4: Taking on a Cause With No Offseason
Nonprofit organization Uplifting Athletes wants to connect 30 million football fans with 30 million rare disease patients. Hear Executive Director Rob Long explain why.
Listen

18 June 2019
Episode 3: Growing Up with Sickle Cell Disease
June 19 is World Sickle Cell Day. In honor of this day and the more than four million people around the world living with this genetic blood disorder, podcast host Anthony Farina sat down with a person living with Sickle Cell Disease to talk about the challenges she faces, and has faced, as a person with the condition.
Listen

21 May 2019

Episode 2: From Heartache Comes Hope
When young Jeffrey Modell continually begged his parents to "do something" about his primary immunodeficiency, it broke their hearts. In 1987, one year after Jeffrey's death, the Modells founded a foundation in their son's name. Now the Modell's story is the subject of a documentary being released on June 11. Host Anthony Farina asks the Modells about Jeffrey, the film and the foundation's work.
Listen

16 April 2019



Episode 1: World Hemophilia Day
In our first episode, Host Anthony Farina interviews Dr. Andra James of Duke University. Her research and publications pertain mainly to the care of women with blood and bleeding disorders, with a special focus on von Willebrand Disease. With World Hemophilia Day on April 17, Dr. James talks about von Willebrand Disease, and how it relates to the more well-known disease, hemophilia.
Listen